Tires for Civilian and Military Power Wagons
This page started out as a place to show off the tires that I had on my truck and to show some spare tires that I had for sale. It has since grown to include anecdotes, photos, and information supplied to me by other civilian and military Dodge Power Wagon owners. Hopefully, this page can help someone in the selection and purchase of tires for their ride when the need for new shoes arises.
If you have questions about any of these photos, send me an email and I'll try to provide an answer.
This page is provided as a resource for other military and civilian power wagon owners, it should not be considered as an endorsement of any particular manufacturer, brand, or dealer. Information is believed to be accurate at the time it was added to this page, but is not guaranteed in any shape or fashion.
Michelin 1100r16 XL Tires
Pictures one through four are shots that I took of some Michelin tires that I got as part of a larger shipment for some fellow Power Wagon enthusiasts that I have since sold to another M37 owner. The XLs are 10.9" wide and are 38.7" tall with a Load Range E rating (5766lbs at 50psi). I was planning to put them on my truck, but I have been really happy with the 900x16 Co-Op Grip Spurs and just can't bring myself to swap them around. Pictures five through seven are of Brad's flatfender. Pictures eight through ten are of Brad's 11.00r16 attached to a flatfender rim before installing it on the truck. The tire is standing next to a 9.00x16 on his W300 truck to give a size comparison.
Speaking of size comparisions, Brad sent me photos 11 and 12 of his new M37 with the following comment: "Here are a couple shots of the 11.00x16 Michelin XL next to a 38" Swamper. The Michelin is 38.7 high as it is supposed to be while the 38" Swamper barely makes 36". The Swampers still have good tread so that is not it." More information about this may be found on the tire height page. Photo 13 is of the same truck with the XL's mounted comming out of a limestone wash with the right wheel almost free from the ground.
I purchased my tires from Bobby at Tire Farmer's International in Georgia (USA). His phone numbers are: 770-869-3299 office or 770-519-1911 cell (and your best bet).
George in TN sent me an email in January 2005 saying that he had purchased a set of 1100r16XL's from Bobby in Georgia and that he was very pleased with the transaction and the tires. He mounted his on a Volvo C304 6x6 and said that the ride was like night and day compared to what he had before (stock tires). A page with photos of his truck with the new tires and info is located at: http://tired-iron.mounet.com/tirediron/C304/C304_c.htm
Information and specifications for these tires may be obtained by visiting the Michelin web site and selecting 1100r16 for tire size, steer/all positions for position, and off road/military for type.
| | | | |
| --- | --- | --- | --- |
| 1 | 2 | 3 | 4 |
| 5 | 6 | 7 | 8 |
| 9 | 10 | 11 | 12 |
| 13 | | | |
Michelin 900r16 XL Tires
These are some shots of the unmounted Michelin tires that Randy has found out in California. Apparently, Randy's tire guy (Bill at Bill's Tires Pacheco, CA, 925.689.2678) has located enough of them to actually offer them for a reasonable price ($190 each in 2002) whereas a lot of tire dealers don't admit that they exist.
Michelin 900r16 XZL Tires
These are some shots of the unmounted Michelin tires that Randy has found out in California and of the tires that Ken has mounted to his firetruck. Apparently, Randy's tire guy (Bill at Bill's Tires Pacheco, CA, (925.689.2678)) has located enough of them to actually offer them for a reasonable price ($165 each in 2002) whereas a lot of tire dealers don't admit that they exist. XZLs are a great tire for someone that want s an aggressive mud tire that doesn't howl excessively on the highway, and that wears slower than the XL. Highly recommended by Charlie and other folks who have them. The 9.00R16 XZL is 36.5" tall and 10.3" wide with an 8ply, Load Range D rating (5290lbs at 50psi).
Doug stated in July 2002 that he had just bought 5 XZL for $165 each from Toscolito Tire in Terra Linda, Ca. The phone number is 415 479-3300 and you should ask for Chad.
Ed sent me a nice write up describing his experience getting Michelin XZL's for his M37 that I though deserved it's own page that can be found at Ed's tire story. He stated that he had ordered his tires from Bill's in December of 2002 for $175 each plus $40 shipping for each tire to New Jersey. He also said that he located another source of the tires: Safari Guard who advertise the XML's, XL's and XZL's. They sell XL and XZL types in the 9.00R16's for $245 each. However, the kicker for Ed was the $60 charge for EACH tire for shipping to New Jersey.
Daniel reported on the BigElectric forum in February 2003 that a dealer in California had a supply of Michelin 900r16 tires for a reported $165 per tire for brand new not used stock. Juan reported that when he called the dealer, that he was informed that the tires are 900r16XZL...
Custom Whitewalls, 425E. Front Street, Covina,CA 91723, Phone#626 9675127
Information and specifications for these tires my be obtained by visiting the Michelin web site and selecting 900r16 for tire size, steer/all positions for position, and off road/military for type.
A program by Michelin for MVPA members to purchase military specification tires from their local dealers at discounted prices is described on the Michelin Tire page.
Reports in July 2003 are that Michelin has discontinued the 900r16 XZL. It is rumored that they were 1) replaced by a metric sized equivalent and 2) that a west coast dealer (Bill's) was working to get a large order together to justify Michelin's making another run of them....
Sidewall information:
Michelin XZL 9.00 R16 Radial
J134 Tubeless
Max Load Single - 3750 lbs at 65psi. cold
Tread - 4 steel plies
Sidewall - 1 steel ply
Made in France
DOT FNW2 AKRX258
Michelin 255/100r16 XZL
I received an email from Alan in England on September 24, 2003 with the following information about the new Michelin 255/100r16 XZL that is the 900r16XZL replacement. He stated "They look like a great tyre, I have not fitted them yet. Size wise I think that they are the same as the 9.00's being a shade over 36" tall and just over 10" wide. The max single load rating at 65psi is the same 3750 lbs and construction is the same, tread 4 steel plies and sidewalls 1 steel ply. The main difference is that the tread pattern is slightly different being a 4 block pattern rather than 3, this though gives them a higher speed rating. I picked these up all 7(2 for my military trailer) for £140.
Co-Op Grip Spur Tires
These are the tires that I purchased for use on my truck. I got them at the Orange Madison Co-Op in Syria, Virginia (Southern States farm supply, not a home and garden store). They had them in stock since another power wagon owner in that area uses them on his civilian truck. They are actually made by Kelly Springfield in their Freeport, Illinois plant and they are available under several different brand names. I paid $120 each in 1997. The are excellent on road (especially in the rain or in snow) and behave pretty well on sand or loose gravel. They do tend to collect clay though unless you get the tires spinning, at which case they sling the mud pretty well. This tire is made in the same plant that made Dan's Power King Super Traction tires.
SteveP at the www.dodgepowerwagon.com forum reported in July 2003 that he had purchased this tire as a New Horizons Grip Spur. He stated that the New Horizon phone is (800)321-2128 and that he had paid about $175/tire.

Sidewall Information:

Co-Op Grip Spur 900x16
Load Range D Tube Type
Tread 6 Plies Nylon Sidewall 4 Plies Nylon Cord
Max Load Single 3030 lbs. at 50 PSI Cold
Max Load Dual 2665 lbs. at 50 PSI Cold
12908 ITS-3
DOT PKW5 TILT 516
McCreary Super Lug Tires
This is a shot that was sent to me by a fellow visitor to the Power Wagon forum that shows one of his McCreary Super Lug Tires. The note that Paul sent me is that: "McCreary sells these under the name Specialty Tires of America "STA". They look like they will be great in our deep snow and probably good in the mud. I bought them from Vintage Power Wagons. I 'think' I remember paying $160 each including shipping. Just bought a second set for my Carryall.

I have no experience driving these. My Power Wagon is in total restoration and won't drive out till spring. Its got a 318, Power Steering, 4 wheel power disk brakes, 4:89 ring and pinions, NP 435 tranny. Should run well. By the way, I have measured the mounted tires, they are 34.5 inches tall." Paul sent me an update in June 2002 to say that his "Pw went to the Iowa Rally last week. With only 15 miles on the restoration, I had concerns that some bugs may surface. None did." He also stated that he had purchased a second set of Super Lugs and sent me another pair of photos.
Paul sent me the following update in February 2003 from upstate New York: "I now have about 500 miles on the STA Super Lug Tires. I am sold on these tires and have a set on my Carryall. The Tires are quite quiet with little road whine. They handle great at speeds you would normally drive a Power Wagon or Carryall. There is noticeable sidewall flex, I can make the sidewalls flex a lot by pushing sideways hard on the Power Wagon. I don't believe these would work out well at high speed corners, but that is not what we are using them for. I have not been in any mud with them, but have run quite a bit of deep snow. The Deep Lugs clean without problem, they dig great and provide a good sense of control. I have pushed it on our back road coming up hill to see just where they would break and slide. They are about equal to the Goodyear Tires on my Ram in that instance. Once in four wheel drive, the Power Wagon is just going to climb and trying to make it slide in the conners, within reason of safety, did not produce a slide. They are good sneakers."
Paul has more pictures and information on his project located on his website.
I did a little searching on the web and found out that Specialty Tires of America was founded in 1915 as McCreary Tire and Rubber Company, and is now owned by Greensburg, Pa.-based Polymer Enterprises Inc.
Marc sent me a note in September 2003 stating that he had spotted Superlugs on the Universal Tire website and that they had both the NDA Nato Bias and the Superlug if you searched under 900-16. He also stated that he had purchsed the Superlug 900-16 locally at tire retailer in Brooklyn NY for $140.00usd.

| | | |
| --- | --- | --- |
| Paul's | Sean's | Sean's |
| Paul's 2nd set | Paul's 2nd set | |
Paul's Sidewall Information:

Specialty Tires of America
STA Super Lug M/S
Load range D 8 ply rating
4 ply nylon side wall 4 ply nylon tread
Tubeless
2716-6
Max load Dual 2665 pounds at 50 psi cold
Max load single 3030 at 50 psi cold
2663-3
ST-744 Made in USA
1072S
DOT CYW5 T28 E0501

Sean's Wholesaler's Faxed Information

Size 9.00 X 16
Load Range D/8
Product Code LT28E
Tread Depth 21/32
Section Width 10.38
Rim 6.50
Overall Dia 36.3
Maximum Load 2665 (D)
3030 (S)

Maximum inf. 50
Sean also sent and email reporting that he had purchased a set of McCreary Super Lug S.T.A.'s as they seemed to be the only thing his local truck tire place (Pomp's, a Midwest Chain apparently) could or would get.
A possible source that your local tire shop can contact if they are having difficulties locating these tires is St. Louis Wholesale Tire, 5048 Penrose St, St Louis, MO, Phone (314) 389-8899 Fax 314-389-8079.

NATO NDT
These are the NATO NDT tread that is the improved version of the original non direction tire (NDT) fitted to the M37 and to a lot of the civilian trucks. The tread pattern is basically the same, but there are a groves in the tire blocks that greatly help performance on wet or snow covered pavement. These particular tires are ones that Paul removed from his truck when he installed the STA Super Lug tires. Tim in Ohio purchased a set of new Firestone manufactured tires from Grant Mackay at Toby Sexton Tire (www.tobysexton.com 1-800-899-5535) in 2000 for $75 each.
Mike sent me some shots of his '48 with the tires he got from Paul. They are retreaded Firestone casings with the NATO design and were retreaded in Denmark
Paul's tires.
Mike's tires (that he got from Paul...)

Tires have gravel in the tread, not studs...
Denman Coyote
This tire was fitted to the Military Vehicles Magazine project M37 by David Ahl (editor and owner of the magazine and truck at that time) who reported that they rode well on pavement and had good handling in snow and rain. The tires were still on the truck a couple years later when I spotted it at a rally being driven by its current owner. The photo is from the Denman Tire website.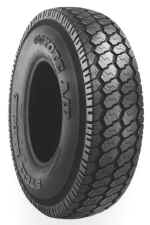 Power King Super Traction
A directional tire that a lot of Power Wagon owners have used with great success. Very similar to the non directional Co-Op Grip Spurs but with more groves in the tread blocks to enhance driving on wet or frozen surfaces. One of the best places to go looking for a set is your local farm tire dealer as a lot of these tires get mounted to pickup and ton trucks used on farms. This tire is made in the same Kelly Springfield plant in Freeport, Illinois plant that made my Co-Op Grip Spurs.
DanP sent me the following info off his spare tire in 2000:
9.00 X 16LT Power King Super Traction
DOT PKW5 0N7T 333
(now the code is partially obscured under the split rim so that is my best guess...
The numbers I know for sure are PKW5 ?N7T ??3)
I received an email in January 2004 from DavidL who stated that he had purchased a set of POWER KING PREMIUM TRACTION tires from his local Les Schwab Tire Center at $154.20 per tire which included mounting and an additional $25.87 for each tube.
DavidL sent me the following information off his sidewall:
DOT 3FW2 3902
load range D, 8 Ply
DaveH sent me an update in September 2004 stating that these tires are now produced in China.
Sticker Reads:
Power King Super Traction 9.00-16LT Tubeless Black Load Range D Nylon Cord NR-50
Sidewall Reads:
Power King Premium Traction 9.00-16LT, Designed for #16 Studs, Tread 6 Plies (Nylon Cord), Sidewall 4 Plies (Nylon Cord, Load Range D Tubeless, Replaces 8 P.R.,
DOT 3FW2, D104903 Made in China
Max Load Single 3030 Lbs. at 50 psi Cold
Max Load Dual 2665 Lbs. at 50 psi Cold
Tim Hardin picked up a set in May 2005 on his way to the Aberdeen Military Vehicle Rally from a distributor near Baltimore and was very pleased with the price and service.
These photos are from some Dan took of his M37's spare tire.


DavidL's tires.


Tim's tires that he picked up on his way to join the 2005 East Coast Convoy to the Aberdeen MV Rally...
Goodyear Xtra Grip
Tire that Dan used to run on his truck before switching to 38" Super Swamper Boggers for more speed after he installed disc brakes. From the photos, it looks like he is currently using them on one of his 3/4 ton trailers... Tire is also used by Matt who reported that he has "four Goodyear 9.00 X 16 "XTRA GRIP" tires on my M-37. Kinda spendy but great tires in all conditions. Lots of traction in mud and snow, and seem to ride nice enough on the road. When replacement time comes, I plan to get more of these." Dan's tires are pictured in photos 1-3 below, Matt's are in photos 4 and 5.
1
2
3

Sidewall Information:

(for two of Dan's tires)

9.00 X 16LT

Goodyear Custom Xtra Grip Hi-Miler tires

DOT MDW5 EH0093, tire #1 and DOT MDW5 EH0103, tire #2


4
5
Bill sent me the following information in the Spring of 2003 when he reported that he had installed some of these tires on his truck that he had acquired off another truck... He reported that they had better traction and ride once they warmed up than the stock military NDT's and that the price had been right, so he was enjoying them. Note that Bill's tires are listed as the replacement for the Goodyear Extra Grip tires and have bassically the same tread and performance data.
Goodyear M+S 9.00 x 16 LT Load range D Tube type Replaces 8 PR Custom Xtra Grip Hi miler Tread 6 plies Side wall 4 plies both nylon Max load 3030 @ 50 psi
Military NDT
This tire is the original military NDT tire fitted to the truck. This style may also be obtained as current manufacture from Coker Tire Denman, and some other manufacturers. These photos came from the Denman Tire website and from Bill's truck.
I had an update from Nick in May of 2005 concerning a source in MD that he had used to purchase Denman NDT's from:
Auto and Trcuk HQ in Havre de Grace, MD, 410-939-3428, www.autoandtruckhq.com , ask for Glenn.
Price Nick paid was;
$135 per tire
$14 per tube
Aprrox $9.95 for flap.

| | | |
| --- | --- | --- |
| | | |
BF Goodrich Radial Mud Terrain T/A
Dana reported on the tires installed on his custom 16.5 wheels: "I can't tell you much. I bought the truck in Oct [2001] and they were on there. They're like brand new... with dry rot. The previous owner bought this truck eight (8!) years ago, bought these big tires right away,... and NEVER DROVE THE THING!!! Dry rot started on the sidewalls, but the treads are perfect including that rubber flash-over from the original mold! Sad. Very sad. I don't really want to replace them (couldn't afford to anyway!). They're super nice looking on there, but seem to maybe have flat spots from sitting for so long? Kind of the square wheel effect going down the road!! So, my impression is that they might be fine if not flattened out. They have a real impressive, aggressive tread and look good on the truck!! My wheels [have] the centers taken out of a Power Wagon rim, and welded into a 16.5 rim. The rim part itself says "Budd" on it, but they're not really Budd wheels from the factory. This eliminates the split ring, and they look darn good!
Stuff on the sidewalls is:
35X12.50R16.5LT 1230 M&S Load Range D
E-24010-2 Made in USA
T473A 18497
Then there's an E4 in a circle followed by 007984
DOT BEXT YK1 464"
According the the tire code, these tires came out of the Uniroyal Goodrich Tire Manufacturing plant in Tuscaloosa, AL.
Dan emailed me to say that he "ran those BF Goodrich 16.5 tires on my truck [M37]. They wore fast and funny and loaded up with mud and did not self clean. I returned them for full credit after 2000 miles (full credit tells me something). They are no good in sand either. I would never buy them again."
Super Swamper Radial
Here are a couple of tire pictures from Ken's Power Wagon. They are 37 x 12.5 x 16 Super Swamper SSR radials. He bought them from National Tire & Wheel.
Super Swamper Bias
Steve sent me the following on his Super Swampers: He bought the tires back in '93 or '94 and they were hard to find at that
time. He called Interco and they referred him to Wallace Wade who tracked some down in a warehouse in northern Ohio. Since then they have become available from National Tire and Wheel in Wheeling, WV. A salesman there told him that it was a popular tire for the US military. They are designed for a 6.5" rim and fit like a glove. Only regular problem that he has is a slight thumping when cold (which is still better than the military NDT), he wishes that they were about 3" taller. The tires were slightly out of round when he received them, so he had to find a tire shop that could shave the tread down slightly (only cost about $10/tire but was still aggravating)

He said these tires outperform the NDT's in all conditions and wear pretty well, but that if he was to do it over again he would buy the Michelin's...
Steve's Tire Information

Super Swamper Q78-16, bias ply, nylon cord, 6 ply rating, load range C, max load 2660 lbs @ 50 psi,

o.d. 35.5", section width 10.5", tread width 9.0"

Interco's Website Information

od 35.5", tread width 9.5", section width 10.8",

max load 2580 @ 40 psi, tread depth 27/32"

A little different from Steve's, so the design might have changed.
Firestone
These pictures are of the Firestone tires that originally where fitted to Ken's 1946 Model WDX. The story of his restoration is being documented on his webpage.
Hankook Dynamic MT
These pictures are of Tom's tires that he put on a 58 W-100. They are just about the same tread as those BFG. These are only
265-75-R16's, about a 31-10.50- 16. He states that he paid $90.00 each, and that he could have gotten 285's for $115.00 a tire that they would have been just a little too tall for the stock suspension. He bought this set in Southern Missouri at a pretty small tire shop called B&M in January 2002. He also stated that they have the tires in Springdale, Arkansas, as well. According to the DOT plant code, these tires where made by the HANKOOK TIRE MFG. CO., LTD. at their MOKSANG-DONG plant located in DAEDUK-KU DAEJUN, KOREA.
DOT T7XB R7H3 401

2 steel and 4 poly ply's (6 ply rating)
2245lbs single at 50psi cold

2225lbs duals at 50psi cold
Goodyear Studded Suregrips
Brad sent me these two shots of the Goodyear Studded Suregrips that came mounted to his Volvo Sugga (it looks a lot like a Dodge Carryall to me). He stated that these are 1100x16 but that the second Sugga had been fitted with a 900x16 version. They are 10 ply and are made in Sweden. They have a Swedish pressure rating on the sidewall.
Super Mudders
I don't know much about these tires, but John Zentmyer sent me an email in January 2005 with the following photo of his former ambulance (he says he has sold the truck) that has some MORE different tires on it. These are 10.50-16 "Super Mudders."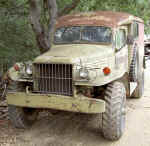 Private Brand Tires
An interesting tidbit I noticed in July of 2002 is that the Goodyear Extra Grip tires are shown on the Cordovan Tire website as Power King Super Traction (article number NR-50) tires. Cordovan is a division of TBC Corporation, a large wholesaler/retailer of Private Brand tires. They have a website at: http://www.cordovantires.com/ that has a retailer locator that may be used to find a local dealer who can hopefully procure some of the tires listed on this page. TBC is headquartered in Memphis, Tennessee. Their website is at: http://isysit.com/tbc/. Since Kelly Springfield is part of Goodyear, it is highly possible that the molds and names of the different tread patterns have gotten swapped around depending on the marketing needs of the retailers so it might be a good idea to match a photo from this page with the tire at the store when you order.
Tire height
One thing to pay attention to when fitting tires, especially if you have gone to the trouble to recalibrate your speedometer due to a tire size change, is that not all tires of the same size are the same height. Check with your tire manufacturer's specifications to find published information or use the following as a guide...
More information about tire height including actual measurements of axle height with different tires fitted to the same truck may be found on the tire height page. There are also some reported tire diameters...
Rim and wheel information may be found on the rim info page.
Useful equations for tire sizes and the rpm/tire size/gear ratio relationship can be found on the equations page.
Tubes and Flaps
Some folks have informed me that they have experienced problems with getting tubes and flaps for use when mounting new tires on their stock rims. The shop that mounted my 900x16 bias ply tires had tubes and flaps on the shelf, and they only had to run across town to get radial tubes when I installed the 900r16 radial tires so I am posting my tube information here along with information provided by folks who have installed 1100r16 tires. One thing to remember is that for correct operation, one should never run bias ply tubes with radial tires. Apparently, the difference in the heat buildup in the tires (bias play tires don't have as much sidewall flex as radials) will cause a bias ply rated tube to fail when used with a radial tire. In the same manner, the tire manufactures and dealers would much prefer that you use a tube that is rated for the size tire that you are using instead of stretching a smaller diameter tube over a larger wheel or inflating a thinner tube in order to fill the cavity created by a larger width or height tire. In both cases, stretching the tube results in the rubber being thinner and heightens the risk of failure. That said, there are folks who are running low boy tubes in their trucks and a couple who report that they are running bias ply tubes with radial tires and have not had any problems. Of course, one states that with his stock engine and lack of long distance miles that he figures that he will never have the heat buildup that a over the road trucker of dump truck operator would experience. I figure that with my repowered truck running at the speeds and loads that I occasionally run, coupled with the hot air and pavement temperatures experienced in the summers, that the only way to go is with a correct type and size tube.
Mike (who is an tire guy with many years experience) sent me the following information from his Michelin truck & off the road tire data books (1971 Michelin technical data book):
9.00R16 - Michelin tube 16N9, with a 1-16 or 170-16 Michelin flap, valve stem on tube is # 570 (metal)
11.00R16 - Michelin tube 16P9 or 16P, with a 6M16 Michelin flap, valve stem on tube is # 1339 (metal)
The1971 Michelin technical data book shows the 9.00r16 and 11.00r16 made in the XS "Sahara" design which in these sizes were all "tube type" at the time as they were fitted to the Power Wagon 6.50x16 wheel as the Power Wagon chassis were in use all over the world.
The later type XL, XZL, XML are all decendents of the "SAHARA" desert tires.
Always check with your Michelin truck /off the road tire dealer...
Michelin 1100r16 Radial Tire Tubes:
Brad reported that he has run 1100r16 XL Michelin's (radial tires larger than the stock offering) using:
1) 10 or 11.00 R15 Low platform trailer tubes with long center valve stem. Make sure both flaps and tubes are radial.
2) Michelin tube 16P9 or 16P with Michelin 6M16 Flap (both again are radial).
Charlie stated that he is using a Michelin Airstop 16-9N tubes (although the Michelin data book says to use a 16P) with 170-16L flaps.
Chris reported that he is using radial tubes for low-boy semi truck trailers. The bar code number on his box is 0 2914219039 4 and the label on the tube package had the following info:
105R
9.00R15TR
10.00R15TR
11.00R15TR
TR444

Michelin 900r16 Radial Tire Tubes:
The tubes that I am running with my radial 900r16 XZL Michelin's (radial tires just a tad taller than stock but sized the same):
John reported finding on Toby Sexton's web site a listing for a radial tube for 235-85r16 which would equate to a 900r16 with a TR150 valve (hand bendable, 3.69" long) that looks like a decent match.
900x16 Bias Tire Tubes:
The tubes that I ran with my bias ply 900x16 Co-Op Grip Spurs:
For folks that are having difficulty sourcing tires through their local dealer, it has been reported that this dealer has a good selection of tubes and flaps for both the stock and larger tires (bias ply and radial applications):
Toby Sexton Tire Co., Inc.
1724 Hwy 81 South
Loganville, GA 30052
800-899-5535
e-mail: sextontires@aol.com
Chris reported that Bi-County Tire in Garden Grove, CA (714 537 5219) supplied the radial tubes for low-boy semi truck trailers for him to use with his 1100r16 radials.
My tire discussion pages start with my tires page and include a page on tire height, the MVPA/Michelin tire program, rim and wheel dimensions on the rim info page, and tire nomenclature, size, and fitment info on the tire info page.
Paul has written a page on the Texas Power Wagon Journal on the differences in wheels and tire fitment for 7.50x16 and 9.00x16 tires fitted on the half and one ton Power Wagons.