Photos of R2 and MB2 Crash Trucks
USAF R2 Crash Truck
The crash truck was built upon the M56 long wheelbase cab and chassis configuration of the M37 by ACF-Brill Motors Company with a body by Oneida Body Corp. for the United States Air Force as a aircraft crew rescue vehicle. The official name on the glove box door data plate is "Truck, Crash, Forcible Entry, Emergency Rescue." There were approximately 300 built.
Photos one through eight are of Chuck Barnett's R2 crash truck that were sent to me by Bob T. aka Brigand from the BigElectric M37 forum. He says that he will take some more photos of the rear of the truck if he ever gets down to Cable Airport in Upland California when the truck is outside... The body plate reads Oneida Body Corp. Mod. R-2 S/N 19-058 Del. Date 4-20-56. The Dodge Vin. Plate reads T-245 S/N 80255211, Del. Date 10-5-53, Contract #12939. If you have questions about photos 1-8, send Bob an email and hopefully he can provide an answer.
If you have photos or information concerning a R2 or other limited production M37 variant, send me an email as I'd love to hear about it.
| | | | |
| --- | --- | --- | --- |
| 1 | 2 | 3 | 4 |
| 5 | 6 | 7 | 8 |
| 9 | 10 | 11 | 12 |
| 13a | 14a | 15a | 16a |
| 17a | 18a | 19a | |
| | |
| --- | --- |
| Photo | |
| 1-8 | Chuck Barnett's R2 taken by Bob T. aka Brigand from the BigElectric M37 forum. |
| 9-11 | Photos taken from the Five Star vehicle rental site. (of Chuck Barnett's truck) |
| 12 | Photo taken from Old Neat Stuff internet sales site (has been sold). |
| 13a-18a | Not sure who sent me these photos. Found them when I was doing an update in December 2004 and they are obviously of Chuck's R2 at a show... |
| 19a | Mike Feather's truck... Not sure who emailed me this photo either... |
A short while after posting the above photos, I received an email from a fellow NCMVPA member informing me that he had a R2 Crash Truck just an hour's drive from my house. According to Ron, the truck that he had was used by the Currituck (NC) Fire Department as a beach rescue truck. It was then sold to a gentleman from Fuquay-Varina (NC) who was going to make it into a beach camper/fishing truck. Ron was able to purchase it from his widow with the hopes of preserving it. The data plate information that I was able to copy while looking at the truck in the woods where it is currently stored shows that it was Oneida Body Corp. Mod. R-2 S/N 140-132 Del. Date 5-21-56. It has a Dodge Build Tag showing that it is a G2741-8358618, contract #12989, date 10-9-53 with a gross weight of 8320lbs and a delivery date of 5-1-56 with an assigned serial number of 80255383. Responsible agency is the United States Air Force. Considering the condition of the data plates and the lighting, I wonder if the contract number is supposed to be 12939 as shown on Chuck's truck... If you have questions about photos 13-56, send me an email and if I can't provide an answer, I'll put you in touch with Ron.
| | | | |
| --- | --- | --- | --- |
| 13 | 14 | 15 | 16 |
| 17 | 18 | 19 | 20 |
| 21 | 22 | 23 | 24 |
| 25 | 26 | 27 | 28 |
| 29 | 30 | 31 | 32 |
| 33 | 34 | 35 | 36 |
| 37 | 38 | 39 | 40 |
| 41 | 42 | 43 | 44 |
| 45 | 46 | 47 | 48 |
| 49 | 50 | 51 | 52 |
| 53 | 54 | 55 | 56 |
| | |
| --- | --- |
| Photo | |
| 14-15 | Engine shots, note fire department 12volt coil and factory governor for rear PTO operations. |
| 18 | Shots of window arms, different than other M37 variations, similar to WC Dodges... |
| 19 | Defroster setup. |
| 22 | Body tag riveted to bottom of passenger seat box just inside the passenger door. |
| 23 | Other tags placed on panel door for photographs. |
| 38, 52 | PTO setup located in the bed behind driver's seating position. |
| 42-43 | Ladder rack has been removed with a hot wrench (cutting torch). |
| 44 | Left rear door with roof access integral ladder on outer body corner. |
| 45 | Right rear corner showing lights and slave receptacle. |
| 46 | Driver's door. |
| 47-49 | Access doors on the driver's side of the rear compartment. |
| 50 | Driver side front storage compartment. |
| 51 | Detail of shock holding the driver's side access panel door open (same design as used on other doors). |
| 52 | Gearbox for the PTO setup inside the rear compartment behind the driver's seat. |
| 53 | Photo is looking at the right rear corner (passenger side rear). |
| 54 | Driver's seat and controls. |
| 55-56 | Front view in the brush... |
I also found this photo and caption at http://www.sembachveterans.org/ of a R2 Crash truck.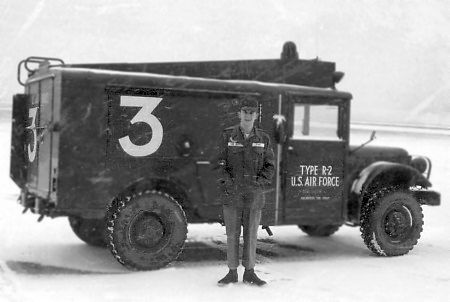 "In a snowstorm at Sembach, Jim Pint and the R-2 crash rescue truck stand-by in front of the crash/rescue flightline fire dept. at the tower building. In the R2, there was direct communication with the aircraft in emergency situations.
1963 photo courtesy of Jim Pint."
The following two photos came courtesey of the DoDFire website at http://www.dodfire.com/Album/Libraries.htm. There was no information posted with the photos, but the site is full of photos of military, mostly USAF, fire and rescue vehicles.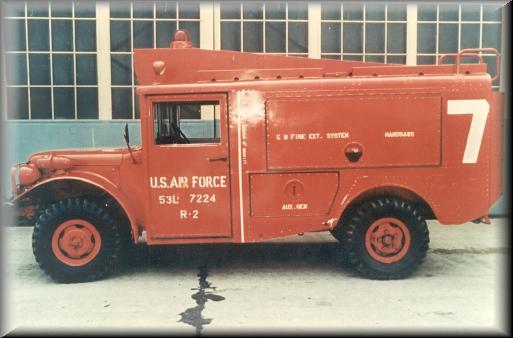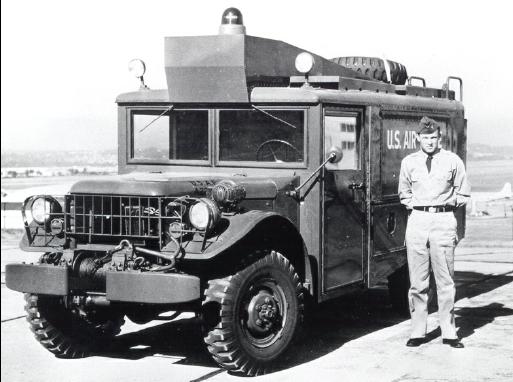 From the same site comes the following picture. If you look closely, you can spot an R-2 in the lineup. A comment posted on the site's guestbook states the following "Fire Station is RAF Bentwaters, England. From left to right Rescue 7 530-B 53L1033, the second truck in unknown to me, Chief 1 was a 1956 Ford Pickup, Rescue 1 was the R-2 53L1026, Rescue 2 0-11A 54L292, Rescue 3 0-11A 54L2369, Rescue 4 0-11A 54L393 and off to the right is Rescue 5 54L537.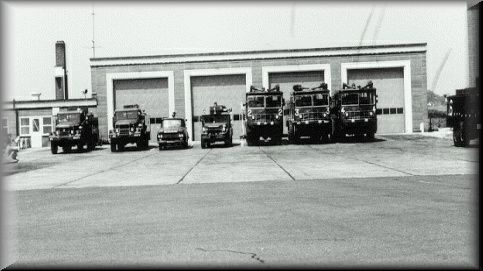 The following modified R-2 was posted for sale on the www.dodgepowerwagon.com photo classified section in 2002.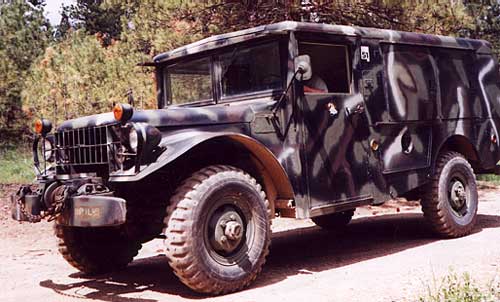 The owner has informed me that it has all the data plates. The contract number for it is 12939 with a chassis delivery date of 11-4-53. It is a Mod. 245. The delivery date on the Brill plate is 7-30-56. He hasno service history for the truck. There is no equipment in the back, it's just an empty van that has been modified. It has lockout hubs. The roof has been modified by taking the ladder storage area off and rivitting a flat steel plate over the hole. On the sides they removed the upper body doors and installed double side oppening doors.
In March 2004, I recieved an email from Zane who had a R-2 Crash truck for sale and had taken the following photos:
Zane reported the following numbers from the two dataplates on the dash. The plate from Dodge listed the MFR. SER. NO 80255612, CONTRACT NO 12989, DATE DEL 10-13-53, and MODEL T245. The other dataplate (I assume the Oneida plate) had: Gross Maximum Weight 8320 and Date of Del. 5-28-56.
I recieved the following note and photos on May 22, 2004 from Suzzane:
I'm selling the beloved family crash rescue truck on eBay and a potential buyer directed me to your site, which provided good info and lots of cool pictures. Since you said you were interested in any info & pics of R2s, here's some on ours:

It's a 1956, purchased in 1985 from Civilian Air Patrol at Kirtland Air Force Base in Albuquerque, NM by a doctor my dad knew. The doctor's wife wasn't happy about the expenditure and ordered him to resell it, so doc called my dad. My dad immediately drove over, fell in love with the thing and brought it home. He reconditioned it a bit and used it while he was a search and rescue coordinator through the 80's, using it mainly for training in central NM. I learned to drive in it about 1989 and we haven't used it much since then. Mostly we've toodled around the neighborhood in it and sat atop it to watch the fireworks displays every 4th. Dad's had a series of strokes this spring and wants to liquidate his property and retire, so the truck we've nicknamed The Warwagon needs a new home.

Anyway, that's our story. Enjoy the pics.
Robert Sims emailed me in October 2004 to tell me about the crash truck that he had just purchased. He reported that everything in the inside of the rear had been removed and that the truck has the following history: The truck was assigned to the 187th Tac recon squadron in Meridian,MS at Key AFB. The last service sticker on inside of door was 6 Dec, 1971 The truck then went to a Local Police Dept. From there it went to a Civilian owner. It was then stored under shed for the last 20 years, Robert is the second civilian owner. He hopes to one day refab everything back to original on the inside.

According to the previous owner, the truck was used as a police communications vehicle which might explain the blue lens on the signal light in place of the original red lens..

Here is the Data Plate info:
M56 Data:
Delivered 10/16/53, Ser # XXXX5577
R2 plate:
Date of Delivery: 6/15/56
Body Tag
Model R-2
Ser # 234-232
Date 6/15/56


USMC MB2 Crash Truck
A even more rare version than the USAF R2 crash truck, the Navy/USMC purchased 130 MB2 crash/fire trucks made by Gichner Iron Works on the Dodge M56 chasis...
FrankUSMC supplied me with the following photos of a USMC MB2 Crash Truck. The truck in the boneyard that has had its running gear removed was located in Eastern North Carolina and was parted out by the private owner before Frank located it. By the time that he was able to return and photograph it, its rear end had been damaged by contact with a bulldozer during a general clean up and re-arrangement of the salvage yard. It most likely has since been crushed as it is no longer on the yard and the folks operating the facility have no memory or record of selling the body... Photos of Frank's 1945 International FFN Crash Truck may be found on photo page fifteen. The photos of the complete MB2 crash truck were sent to me by David Doyle who reported that the truck was sold, in working condition, to somebody in Arkansas in 2003. The photos where taken before the sale was made and the current location and condition is unknown to him.
Photo A
Official portrait of a MB2. Unfortunately, the detail of the cannon on top of the cab is pretty washed out.
Photo B
Photo taken of a MB2 body that has had the running gear and other items removed from it. Notice the damage to the rear end sustained when the body was moved by pushing it with a bulldozer.
Photos C and D
Shots of a second MB2 taken on a yard before it was sold. Notice the PTO transmission cover in photo D...
Photo E
Shot taken from the G741.org site's archive of the old BigElectric owner's rigs pages. Truck belonged to Scott in RI who reported that his was cab only and was missing the original utility body and that he would like to find another for comparison...
Photo F
Judith in RI sent me an email in January 2005 stating that she is the current proud owner of Scott's M56 in photo E. It was truck three of Andy Casey's growing stable of Power Wagons. She says that the truck runs awesome, and that she hasdone very little to it. She drives it to work at the Navy Firefighting School in Newport, RI at least once a week. It had a utility bed on the back, but they removed it in anticipation of finding an M37 bed that theu could fit. Hopefully come spring time it will be alittle more complete, but she still enjoys riding around with the
bus doors open to the fresh air on warmer days!! The 1950 civilian power wagon is also shown on my misc. photos page.
I recieve the following from Geoff in December 2004:
I am a state surplus property screener who just happens to have a passion for old vehicles. Recently, I was able to obtain ten M37s and this one M56 (actually a MB2) for use by municipalities in Massachusetts. They were all former NH fire department vehicles, turned in by their respective departments when they were replaced with modern equipment. The MB2 in the pictures here is now owned by a local Massachusetts fire department. They will restore it one day; meanwhile, it is in dry storage along with their two M37s and one M43. One of the M37s is in regular use as a brush truck. The MB2 is pretty much intact and not rusty, but it is missing some parts, including the doors. If anybody has a set, please email me so we can put this rare beast back together. The shiny red brush truck with winch (well, okay, with most of the winch) is a cut-down M43 that the New Hampshire Forestry people used to fight wildland fires until a year or two ago, when it broke an axle shaft and was retired from service. It was recently sold at auction to a private buyer. Geoff works for the Hampshire Council of Governments (Massachusetts) Surplus Equipment Program.
| | | | |
| --- | --- | --- | --- |
| G1 | G2 | G3 | G4 |
| G5 | G6 | G7 | G8 |
| G9 | G10 | | |
| | |
| --- | --- |
| Photo | Caption |
| G1-G3 | Cut down M43 used by New Hampshire forestry for wildland fire fighting. Now in private hands. |
| G4-G6 | MB2 fire truck, was New Hampshire, now in the hands of a Massachusets fire department that is planning on restoring it... |
| G7-G10 | M37 brush trucks now in Massachusetes |
If you have photos or information concerning a R2, MB2, or other limited production M37 variant, send me an email as I'd love to hear about it. Likewise, send me an email if you have any questions about this page.