M37 Project Pages
Specifications
Photos
Cummins Conversion
Throttle
Hydraulic Clutch
Ranger Overdrive
Driveshaft
Electrical
Links and Other Stuff
Links
Manuals
Otto, M37 guntruck and others
Gen Sato Posters
Lou Messa Paintings
M37 Cartoon
Transmissions
SAE Bellhousing Chart
1951 M38 1/4 ton
M35 Project Trucks
XM708 dumptruck
Professional
NCDOT

Mercedes 170S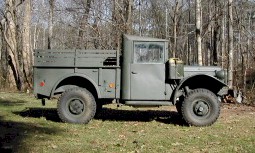 In 1997, I purchased a 1953 Dodge M37 from a farmer just outside of Huntsville, Alabama. I had originally contacted him when a buddy of mine from outside Atlanta called me to let me know that he had located a civilian Power Wagon for me to go look at. The short version of the story is that after driving from Raleigh to Huntsville to look at the 1950 B2 Power Wagon that the farmer had for sale, I ended up making a package deal for the civilian truck and two M37's. It should be stated that all three of the trucks where in very sad shape, but I had the fever...
My plan was to get the M37 fixed up just well enough to be usable as a "beater," then to restore the civilian truck. After I had the civilian truck fixed up, I figured I would sell off the M37 and its parts truck to someone else.
Plans changed. The more I worked on the M37, the more I liked it. Meanwhile, the civilian Power Wagon had a lot more problems than I had originally noticed during my trip to Alabama, and work on it kept getting postponed. One day, I had a phone call from a guy in Georgia who heard that I had a civilian Power Wagon that might be for sale... Two weeks later, I had parted with the 1950 B2 Power Wagon.
Since then, I've been working steadily on the M37. These pages are to show what I have done to the truck, and to share what I am learning along the way.
I decided that the M37 was so much fun that having another project would be a good idea. Perhaps this thought came to me when I was lounging around the house one day realizing that I didn't need to do anything to the truck at that moment, but that I had the urge to turn wrenches... After a bit of casual looking, in January 2003, I located a Willys-Overland 1951 M38 1/4 ton truck (jeep) that was priced right, needed work that I felt comfortable performing, and that would fit in the garage. I plan to give it the same treatment that I have been giving the Dodge and have placed a link to its pages on the left...
Page concerning Carrying Children in a Pickup Bed in North Carolina and the Seat Belt Law.
Page concerning antique vehicle inspections in North Carolina (exemption for 35 years or older)